I've been wanting to make a tote bag for awhile now, to see how easy/hard it is, and also because tote bags are one of the most useful things ever invented since, like, … sliced bread? Okay, that doesn't work there, but I'm sticking with it.
Home decor fabric can get a bit pricey, but I've realized a great place to get some for cheaper is the As-Is bin at IKEA. The last time I was there, I raided that bin and came home with a couple of curtain panels and sheets. Not damaged in any way that I could tell, except one had some grommets all over it, so it must have been part of a display at some point.
I absolutely loved these curtains and had almost bought some for our house (but decided to go with plain white instead):
I was so happy to find them in the as-is bin!
We are currently switching to a different day care, and I wanted to make something as a thank-you gift for E's wonderful teacher. She has has been so amazing with him (and become a friend of mine), and we will miss seeing her daily. (She's also like, 1 of my 3 blog followers… hee hee!)
I followed the tote bag tutorial found here at Sew, Mama, Sew! I'm still super-slow to complete sewing projects, so it took me awhile, but it came out looking like it's supposed to. (I'm still at that stage where that's my definition of success!)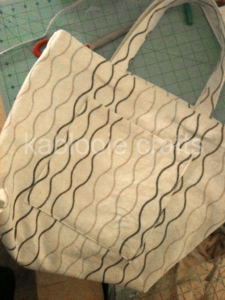 I love the pattern, and the weight of the fabric feels very sturdy.
I even totally goofed on something, and didn't realize it until posting this. The bag was going to have the stripes go horizontally, but it was late at night and at some point I forgot that, and turned it the wrong way. (Hmmmm! That explains my confusion at one of the measurements during the step where you add the pocket… ) But, it's not obvious since the dimensions are just 1 inch different between height and width. Yay for patterns that are idiot me-proof!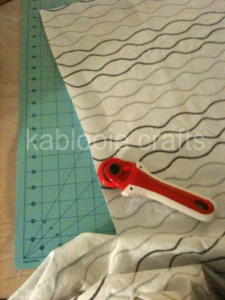 The biggest thing I learned from this? I hate measuring and cutting large pieces of fabric. I need to move to my dining table to do it, or something. It's so frustrating to try and lay things out to measure and cut them in the limited space on my craft table. And, because I'm shifting the fabric around a bunch, I keep goofing on lining things up. D'OH!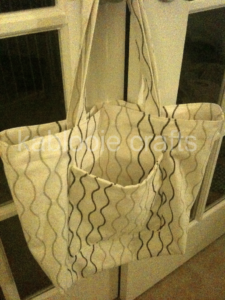 All in all, I'm very happy with the finished bag. Hope she can get some use out of this!